Queen, The Beatles Most Beloved Bands Among Democrats, Republicans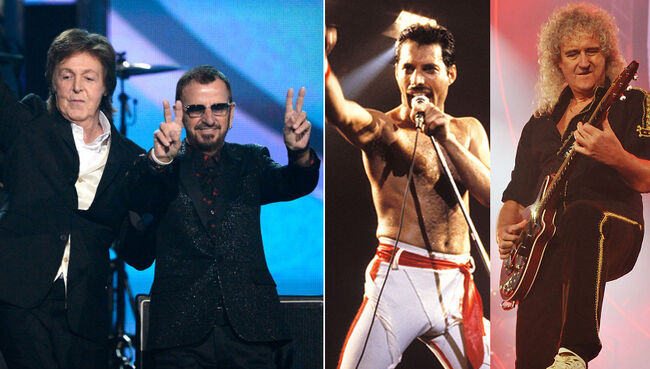 If we've learned anything over the past several years, it's that getting people to agree on anything is hard. Whether it's science, politics, religion, Laurel or Yanny or the geometry of the Earth, we are divided now more than ever.
As far as art and music go, we all agree that it's a matter of taste. But how do a person's musical tastes correlate to their political views? A new study called Tuning In To Politics by TickPick sought answers, and the results are fascinating — perhaps even encouraging!
A survey of over 1,000 Americans who identified themselves as either Democrats, Republicans or Independents found that one thing they agree on, no matter their politics, is classic rock! And two British classic rock bands stood atop the heap in terms of being universally revered: The Beatles and Queen.
Both iconic rock groups were either the most or second most popular among the three political groups. Independents favored Queen with The Beatles coming in second, while Democrats and Republicans put The Beatles first. Republicans did not name Queen as being in their top 10 favorites.
Elton John, The Rolling Stones, Michael Jackson and Aerosmith were all ranked in the top 10 for all three groups as favorite musical artists.
Each group had favorite artists that weren't shared by the other two groups. For Republicans, those artists were Billy Joel, Elvis Presley, Bee Gees and Bon Jovi. For Democrats, it was Prince and Nirvana. For Independents, it was Pink Floyd and Led Zeppelin.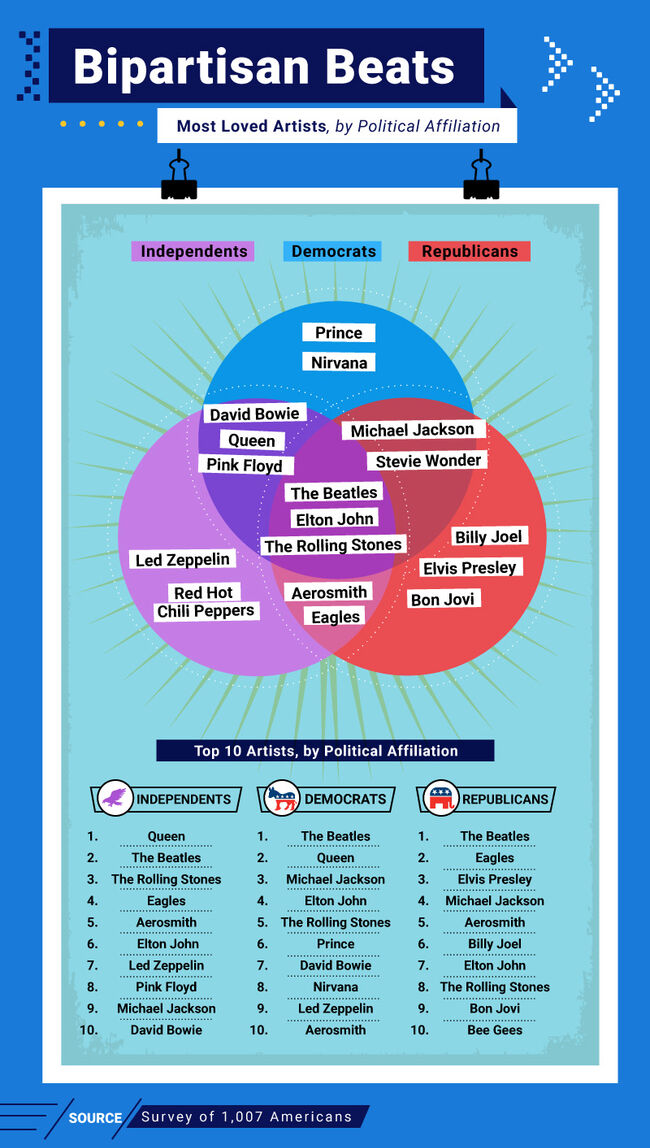 TickPick found people of all political stripes liked Pop music second best as a genre, behind classic rock. From the third favorite genre of each group, answers changed significantly.
Democrats' third favorite was Alternative music. Republicans' third favorite was Country. Independents' third favorite was Classical. Each group displayed an affinity for R&B/Soul music as well.
Republicans were twice as likely as other groups to list Country music as one of their favorite genres, while neither Democrats or Independents listed Country in their top 10. Democrats were the only group to name Hip-Hop among their top 10. Independents were the only group to name Reggae as a top 10 favorite.
Respondents were also asked about specific political issues.
Fans of Indie Rock, Reggae and Alternative were most likely to agree with Gun Control. While fans of Country, Heavy Metal and the Blues were most likely to disagree with Gun Control.
Fans of Country, Heavy Metal and Blues were also most likely to agree with a wall along the U.S.-Mexican Border. Fans of Indie, Hip-Hop/Rap and Folk were most likely to disagree with a wall.
When it comes to President Donald Trump, fans of Garth Brooks, KISS and Rod Stewart were most likely to say he's doing a good job in office. Fans of Kanye West, Beyoncé and Lady Gaga were most like to disapprove of President Trump's performance.
Read more about the study here.
Photo: Getty Images