Radio Station Prepares Big Check for Led Zeppelin Reunion Offer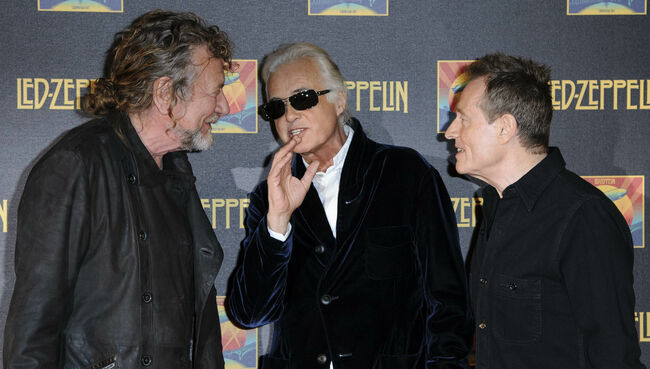 On December 26, 1968, legendary British rock band Led Zeppelin performed for the first time in North American, opening for Vanilla Fudge at Denver's Auditorium Arena.
To celebrate the 50th anniversary of Zeppelin's North American debut, Denver's Classic Rock station, 103.5 The Fox, has submitted an offer to surviving band members Robert Plant, Jimmy Page and John Paul Jones to reunite this winter in the city for a short set.
"103.5 The Fox is prepared to make you a substantial financial offer to play a three-song set here in Denver on the anniversary of your first live performance in North America," read a press release from The Fox.
"The staff here at 103.5 The Fox passed the hat and collectively we have raised $312.78," the release continued. "This amount will be paid in full following the performance."
Understanding that $312.78 might not be quite enough to get Zeppelin's attention (the band was rumored to have been offered $14 million to reunite at Desert Trip in 2017), The Fox is including a sweetener.
"[We] would also be able to offer the three of you one complimentary dinner at Casa Bonita during your visit to Denver," read the statement. "I am sure you are aware this includes unlimited sopaipillas (TAX & GRATUITY NOT INCLUDED)."
The station says it has yet to hear back from Led Zeppelin's management regarding the offer.
Earlier this year, the surviving members of Led Zeppelin reportedly met in London to discuss the band's 50th anniversary plans for this fall.
In addition to a number of album reissues, Zeppelin recently announced a career-spanning book of photos, Led Zeppelin by Led Zeppelin, to be released in October.
While Plant said last winter that "a cork will pop" on the band's 50th anniversary, it seems unlikely the band will perform again.
Page said he believes the "time has gone" for more concerts as Led Zeppelin when he was last asked to weigh in on the subject.
But has Zeppelin ever been offered unlimited sopaipillas before?