Johnny Rotten Once Caused Bruce Springsteen to Storm Out of a Gig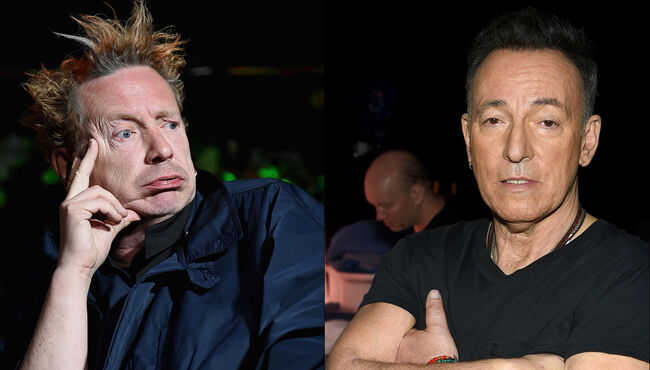 Most of John Lydon aka Johnny Rotten's appeal over his career comes from how mercurial and unpredictable he can be.
It's never been in the nature of the former Sex Pistol's frontman to mince words or resist blurting out a joke, no matter how off-color it may be.
So Lydon wasn't at all surprised to learn that he once offended Bruce Springsteen so much, The Boss up and walked out of one of his shows. He offered his recollection of the incident in a recent interview with Q104.3 New York's Shelli Sonstein.
"It's hilarious because Bruce Springsteen apparently did turn up at a gig ... he was up in the balcony," Lydon said. "Somebody told me and I cracked one of my typical bad taste jokes. He was apparently mortally offended and left the building."
And while if we're being honest he may have meant some offense with the remark, he insists that he didn't mean to upset Springsteen — running his mouth is just part of Lydon's deal.
"... [It was] something deeply unpleasant, no doubt, but meant with the greatest possible fun."
Lydon has no idea in what year this happened, or how famous Springsteen was at the time. He says it doesn't matter anyway.
"I don't know or care, really," he continued. "It's just, you know, names-trading. And that's what we do in our music industry is we mock each other gently. None of it's meant in any harm or hurt. That's media misinterpretations of us. We're a friendly bunch of sarcasm."
Lydon was in New York promoting his new documentary,The Public Image Is Rotten, which surrounds his post-Sex Pistols career with the influential Public Image Ltd.
Elsewhere in the chat, the singer described how happy he is to be an independent artist with full control over his career. He's been on both sides of the industry, and for him, where he is now is the best he's ever been.
"it's very nice to have the safety net of large companies behind you, but the damage they do to your career with the dictatorships and the demands is really not worth it," he explained. "So I can live quite happily without their money because it comes with such restrictions and restraints that I wouldn't be me anymore. And I've got to be me!"
Photo: Getty Images